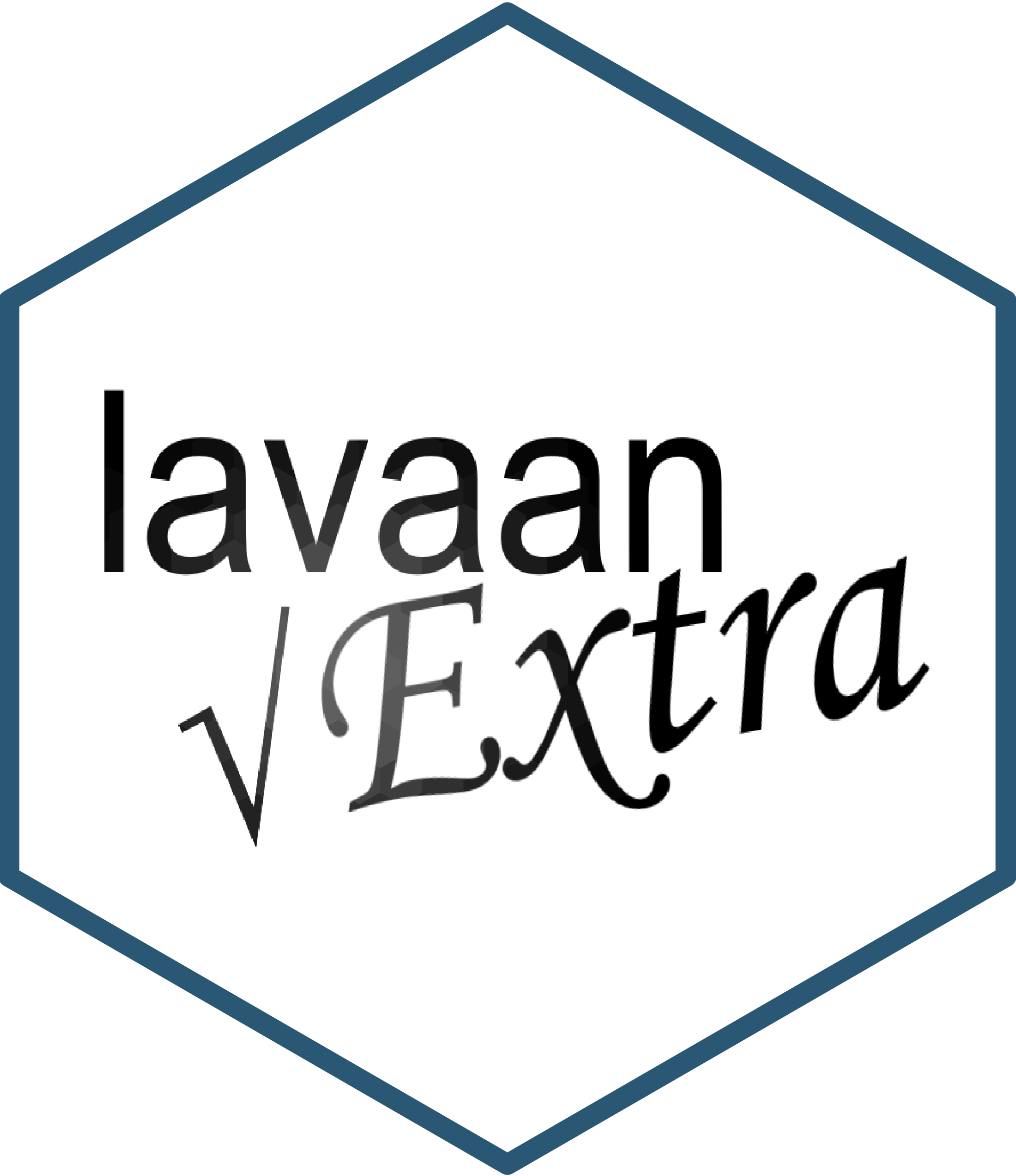 Extract relevant regression indices from lavaan model
Source:
R/lavaan_reg.R
lavaan_reg.Rd
Extract relevant regression indices from lavaan model through lavaan::parameterEstimates with standardized = TRUE. In this case, the beta (B) represents the resulting std.all column. See "Value" section for more details.
Arguments
fit

lavaan fit object to extract fit indices from

estimate

What estimate to use, either the standardized estimate ("B", default), or unstandardized estimate ("b").

nice_table

Logical, whether to print the table as a rempsyc::nice_table as well as print the reference values at the bottom of the table.

...

Arguments to be passed to rempsyc::nice_table
Value
A dataframe, including the outcome ("lhs"), predictor ("rhs"), standardized regression coefficient ("std.all"), corresponding p-value, as well as the unstandardized regression coefficient ("est") and its confidence interval ("ci.lower", "ci.upper").
Examples
(

latent

 

<-

 list

(


  visual 

=

 paste0

(

"x"

, 

1

:

3

)

,
  textual 

=

 paste0

(

"x"

, 

4

:

6

)

,
  speed 

=

 paste0

(

"x"

, 

7

:

9

)




)

)




#>

 $visual


#>

 [1] "x1" "x2" "x3"


#>

 


#>

 $textual


#>

 [1] "x4" "x5" "x6"


#>

 


#>

 $speed


#>

 [1] "x7" "x8" "x9"


#>

 





(

regression

 

<-

 list

(


  ageyr 

=

 c

(

"visual"

, 

"textual"

, 

"speed"

)

,
  grade 

=

 c

(

"visual"

, 

"textual"

, 

"speed"

)




)

)




#>

 $ageyr


#>

 [1] "visual"  "textual" "speed"  


#>

 


#>

 $grade


#>

 [1] "visual"  "textual" "speed"  


#>

 





HS.model

 

<-

 write_lavaan

(

latent 

=

 

latent

, regression 

=

 

regression

)


cat

(

HS.model

)




#>

 ##################################################


#>

 # [-----Latent variables (measurement model)-----]


#>

 


#>

 visual =~ x1 + x2 + x3


#>

 textual =~ x4 + x5 + x6


#>

 speed =~ x7 + x8 + x9


#>

 


#>

 ##################################################


#>

 # [---------Regressions (Direct effects)---------]


#>

 


#>

 ageyr ~ visual + textual + speed


#>

 grade ~ visual + textual + speed


#>

 



library

(

lavaan

)




fit

 

<-

 sem

(

HS.model

, data 

=

 

HolzingerSwineford1939

)




lavaan_reg

(

fit

)




#>

    Outcome Predictor     p      B CI_lower CI_upper


#>

 10   ageyr    visual 0.513 -0.058   -0.230    0.115


#>

 11   ageyr   textual 0.000 -0.304   -0.437   -0.171


#>

 12   ageyr     speed 0.000  0.354    0.208    0.500


#>

 13   grade    visual 0.818  0.020   -0.150    0.189


#>

 14   grade   textual 0.148  0.099   -0.035    0.233


#>

 15   grade     speed 0.000  0.389    0.248    0.531